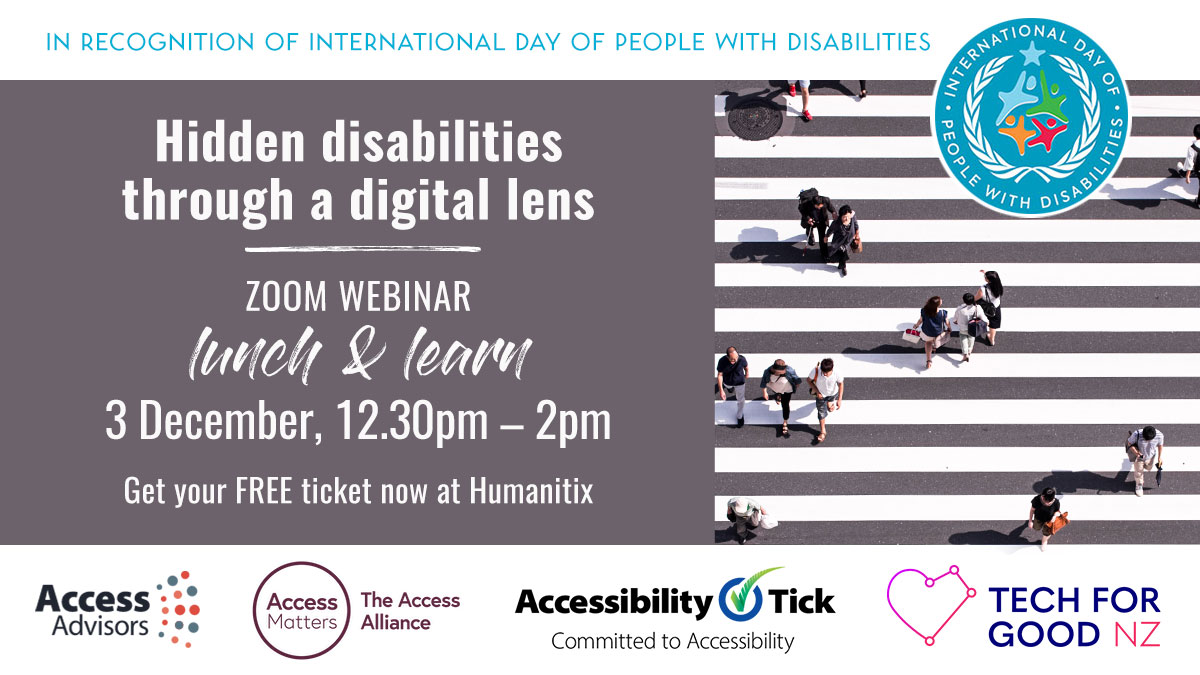 December 3rd marks the International Day of People with Disabilities. This year's theme, Not all Disabilities are Visible, focuses on spreading awareness and understanding of disabilities that are not immediately apparent, such as:
mental illness
chronic pain or fatigue
sight or hearing impairments
diabetes, brain injuries
neurological disorders
learning differences; and
cognitive dysfunctions
Access Advisors, Access Alliance, Accessibility Tick, and Tech for Good NZ have partnered to help share the global celebration locally and bring awareness to hidden disabilities through a digital lens.
What: Free 'lunch & learn' webinar
When: December 3rd, 12:30 – 2pm
Where: Zoom – Get your tickets now – Humanitix
Who: We're delighted and excited to bring you an incredible line-up of speakers sharing their experience with hidden disabilities
Moderator: Neil Jarvis – Accessibility Consultant for digital and e-communications
Speakers:
Monique Leith – Director, Principal Planner at Leith Consulting, shares her experience with Zoom's no auto captioning
Nick Stoneman – Founder NZ Disability Advisory Trust and advocate for people with disabilities
Lyneen Allen – Deaf blind co-ordinator at Blind Low Vision & Founder Positive Deaf New Zealand, a portal for Deaf people to connect digitally through stories, crafts, dancing.
Sign up here to join this free webinar and global celebration of International Day of People with Disabilities.
Chandra and the team @ Access Advisors
Thanks,
Dr. Chandra Harrison