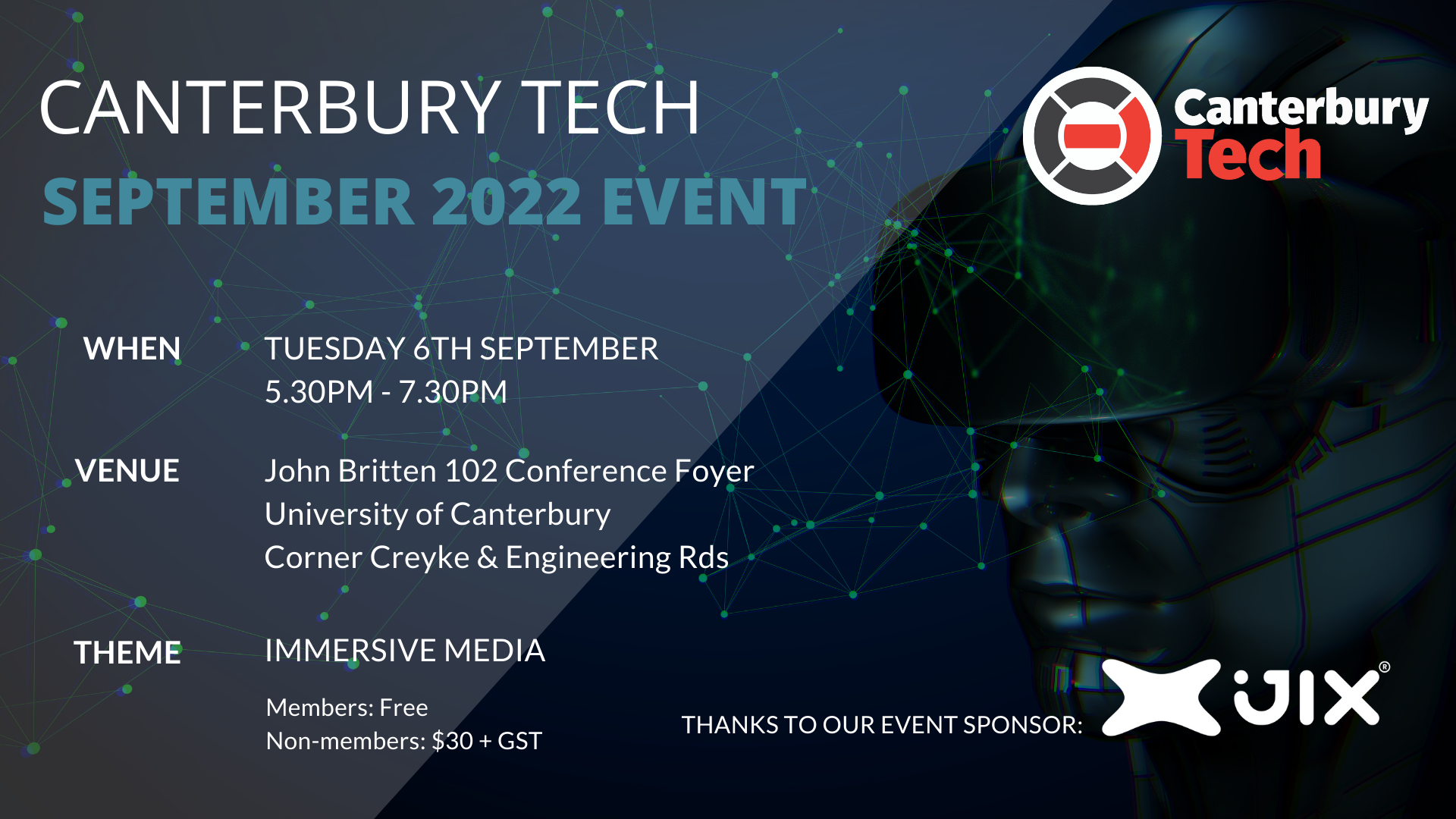 Canterbury Tech September Monthly Event, sponsored by JIX Reality.
Join us at our upcoming AR/VR/XR themed monthly Canterbury Tech event.  Sectors are investing billions into developing exciting new technology, the AR/VR/XR industry is projected to grow to more than USD $40B by 2023!  New and emerging XR will play an essential role in improving businesses and consumer experience.
Hosted by our wonderful committee member Seku Skandan, join us for this panel style discussion, looking at the state of XR and virtual production in Canterbury.
Convergence of XR Technologies by Sakthi Priya Ranganathan, Founder & Design Technologist, JIX Reality
Cultural Storytelling using Immersive Technologies by Vincent Egan (Co-Founder & CEO) & Madison Henry (Co-Founder & Cinematographer), MAUI Studios
THE NEXT STAGE OF XR & VIRTUAL PRODUCTION IN CANTERBURY (Post NZGDC reflection) Panel:
– Petrina D'Rozario, Screen CanterburyNZ Manager
– Sakthi Priya Ranganathan
– Vincent Egan
– Adrian Clark, representing AIGI, HITLAB and Digital Screen Campus Initiative
– Simon Waterhouse, Creative Director & Founder, RESONATE
When: Tuesday 6th September 2022, 5.30pm
Where: John Britten 102 Conference Foyer, University of Canterbury, Corner Engineering & Creyke Roads
Event Outline:
5.30pm – Registration opens, networking, drinks and nibbles
6.00pm – Canterbury Tech updates
6.15pm – Our guest speaker and Q&A time
7.00pm – More networking
7.30pm – Close of event
Things to note:
Please note that registering for this event will be taken as acceptance that your image, name, or voice may be included in a recording or photos of proceedings that will be published after the event.
We will adapt this event according to the current Covid Alert Level in place at the time.