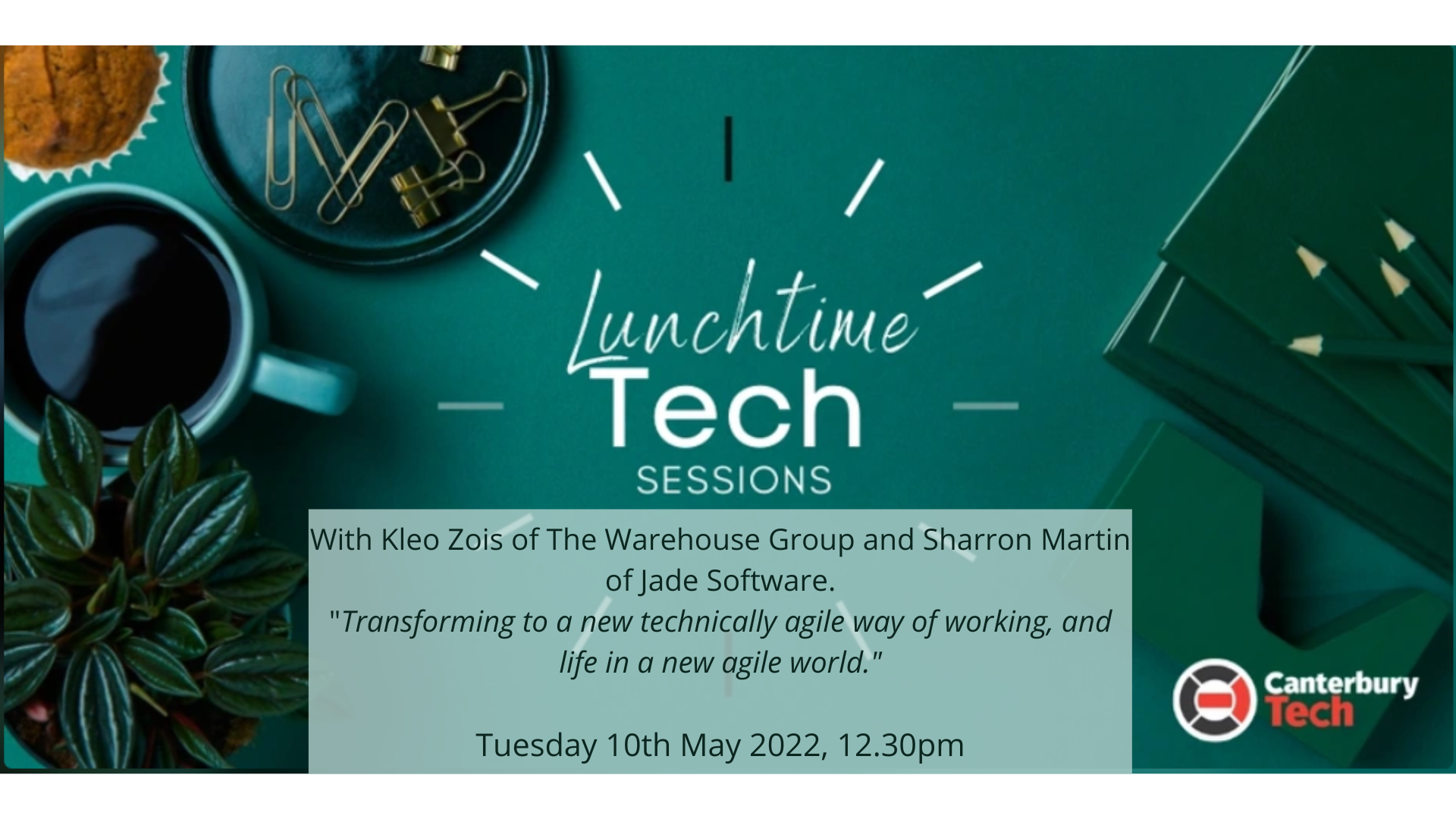 Join us for our next Lunchtime Tech session…
"Transforming to a new technically agile way of working, and life in a new agile world"
– with Kleo Zois, Product Portfolio Manager at The Warehouse Group and Sharron Martin of Jade Software
When – Tuesday 10th May 2022
Time – 12.30pm – 1.15pm
Where – Online.  A link to the Zoom meeting will be emailed to you prior to the event
Cost – This is a free event
About the event
The Warehouse Group has flipped the entire organisation to working in an agile way. The next step
was to take their suppliers and strategic partners along with them. After several decades of working
in a certain way, change can be a real challenge.
Join Kleo Zois to hear how she worked with Jade to quadruple the size of the development team and then flip to an Agile way of working, to align with the strategic direction of The Warehouse Group. As Product Portfolio Manager, Kleo Zois was responsible for leading the charge, organising the new teams to operate in an agile way and minimise the impact of the planned deployments at the same time. No easy feat!  Kleo will share some of her insights on how she achieved this, what she learned in the process and how life is going in their new agile world. Kleo will also discuss how the agile transformation has led
to:
– Doubling the number of releases to production
– Creating a culture for continuous improvement
– Rapid enablement of some of their best enhancements to date – saving time and money.
Joining Kleo is Sharron Martin, who is a seasoned technology practitioner with more than two decades in the IT industry. Coming from a consultancy background, Sharron has hands on experience and an intricate understanding of the process of software development and delivery.