Introducing our new Chair – Vaughan Luckman!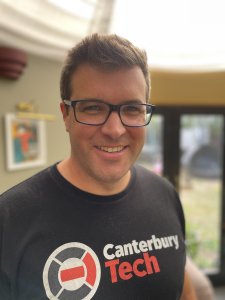 After five years as Treasurer, I am excited to step into the Chair role. I am passionate about the role that tech plays in making business better – and it is exciting to have Canterbury Tech in a position to champion this.
With another COVID-disrupted year ahead of us we are focusing on finding new ways to add value to our members. This will include shaking up the way that we deliver events under ever-changing restrictions, kicking off projects that help to highlight the value of the sector (including an ecosystem map), and continuing to share the stories of the great work that is coming out of the region. We will also be looking forward to the return of the Tech Summit late in the year (which I hopefully haven't jinxed by saying that out loud ….).
As we confirm the projects and outcomes that we are targeting this year we will be looking to bring some complementary skill sets to the committee via Associate Member roles. Watch out on LinkedIn as we put out the call later this month – I know that there are lots of passionate people out there and we are keen to harness that to help grow what we do.
If you do have any thoughts about the role of Canterbury Tech, and where we can add more value then please reach out – chair@canterburytech.nz – we are keen to keep pushing what we do.
Vaughan Luckman
Chair – Canterbury Tech