Raising NZ's Global Tech Profile Together – NZ Tech Story
Our goal is to raise New Zealand's global tech profile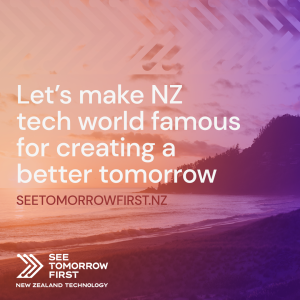 Despite the growth of our tech industry, recent international research tells us that New Zealand is not typically associated as a place where tech comes from. The New Zealand Tech and Innovation Story (Tech Story) is designed to enhance our reputation as a source of world-class tech solutions and reflect our people, values and ambition.
By sharing our Tech Story, See Tomorrow First, to the world, New Zealand can be recognised in a way that helps grow its tech exports, attracts investment and tech talent, and inspires the next generation.
See Tomorrow First
See Tomorrow First is the positioning statement for the New Zealand Tech and Innovation Story. This is the line to capture our essence, grab the audience's attention and make them interested to learn more about our unique people and capabilities. It has been designed to complement our country's unique strengths in tech and innovation and expand on what research tells us about the current overseas awareness and perceptions of New Zealand.
To read more about the Tech Story and access more info on See Tomorrow First, click here.