Software Firms Join to Drive Growth In Australian Energy Market
Christchurch-based technology company, Webtools Energy, has been bought by the Auckland-based software company, Agility CIS.  The deal saw customers, products and staff of Webtools Energy transition to Agility CIS on 31 October.
Both companies specialise in building software solutions for the energy retail market, helping companies enhance end-user customer experience, provide more accurate pricing estimates and drive down costs.
Webtools was established in 2014 by Brett O'Donnell, a Christchurch-based entrepreneur, who saw a gap in the market to help energy retailers become more efficient.  The company has 16 employees, with offices in Christchurch and Melbourne.
Webtools Energy's products, UCONX and Swift are used by leading retailers, such as Genesis Energy, Meridian and Contact Energy in New Zealand and Sumo and Simply Energy in Australia – with over 2 million end-user customers combined.
Agility CIS is the largest provider of billing systems in the Australian market, with more than 20 year's industry experience.  Combined with Webtools Energy, it will employ over 300 people, with offices in Auckland and Melbourne.  Agility's recent acquisition of Znalytics, a leading SaaS (software as a service) provider in the retail energy space has grown its operations in the USA, Japan and India.
With complementary product-sets, the deal has been driven by the desire of both companies to accelerate growth in Australia and New Zealand and further enhance their solutions for clients.  Agility CIS's ability to grow rapidly has been enabled by their purchase by private owners SilverTree Equity and Pioneer Capital in November 2019.
Webtools Founder and CEO, Brett O'Donnell remains with the business, heading up the growth strategy in the newly created role, Head of Front-End Client Solutions.
He says:
"I'm excited by the opportunity this gives us to accelerate our growth into new markets; our growth will be much faster than we had previously envisioned thanks to this investment."
He adds:
"The deal is a good news story for Christchurch too.  Gaining this investment means I am able to give additional funding to other parts of the Webtools Group, including Webtools Health, Webtools Agri-Tech and Workable.  These teams will need more staff to help drive faster growth."
Joanna Norris, CEO of the economic development and city promotion agency, ChristchurchNZ comments:
"Brett has proven you can grow a successful global tech business from Christchurch.  He has a great understanding of market needs, knows how to plug into the city's strong tech and start-up ecosystem to harness support and give back to the community.  We wish him and the team well in this new phase."
Agility CIS CEO, Craig Jones, adds:
"This acquisition further augments our Orion suite of Cloud-based software. Webtools Energy's innovative front-end solutions can help our clients reduce customer acquisition costs, and will strengthen our position as the market leader in Australia. Brett and the team have built great relationships with their clients, and we are excited to have them on board."
The deal will see the Webtools Energy clients, product suite (UCONX, SWIFT and NetPS) and staff become a part of Agility CIS. Its Australian staff will move into Agility's office in Melbourne, where new CEO Craig Jones is based.  Its New Zealand staff will remain in The Loft coworking space in Christchurch. Brett O'Donnell retains his position as CEO of the Webtools Group, along with an investment stake in the company. Webtools Health and Webtools Agriculture businesses remain in the Webtools Group and are not affected by this transaction. They continue to be led by their respective CEOs, Harry Hawke and Melissa Baer.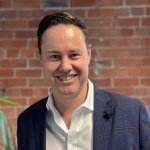 Photo: Webtools Founder and CEO, Brett O'Donnell