The Ministry of Awesome' reflects the exciting new era of Christchurch startups
This interesting article was written by Steven Moe and published in The Spinoff about Ministry of Awesome and Canterbury's thriving ecosystem. The role of Canterbury Tech and the Summit is also mentioned.
There's an innovation renaissance brewing in post-earthquake Christchurch as multicultural entrepreneurship replaces the old boys' network. This required a new name, writes Steven Moe.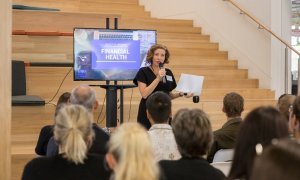 An unusual name that evokes images from Harry Potter is fine by the Ministry of Awesome, because it immediately sets it apart. Founded in the aftermath of the Canterbury earthquakes, the business incubator has grown and evolved into Christchurch's go-to destination for high growth startups and entrepreneurs.
Leading the charge is 'chief awesome officer' Marian Johnson. When she started at the end of 2017 she had her reservations about the title and wondered if it needed to better match the expectations of more conservative stakeholders. But she soon realised it fits the bill.
"The Ministry of Awesome stands for anything but business as usual. Now, when people remark on my title I might smile and do a bit of jazz hands, but our organisation represents around 8,000 individuals all doing 'awesome' in their own ways."
MoA focuses on early stage ventures when they are at their most vulnerable. It guides them through the process of validating a market, defining their customers and securing funding, and offers support through the inevitable failures (better known as 'learning experiences') and pivots.
It is well known in Christchurch through the 100 or so events it runs each year focused on developing the startup ecosystem. Around 70 to 100 people attend the weekly Coffee & Jam meetup at EPIC Innovation Campus (a unique post-earthquake success story in itself) to hear speakers from two startups each time that are at different stages in their cycle.  There is a startup activation programme to triage and assist fledgling ventures; a startup breakfast club; and monthly founder events exclusive to the 17 startups who are the first cohort at Christchurch's Te Ōhaka Centre for Growth and Innovation.
That's a lot of activity, but what does it mean for New Zealand's second largest city and its earthquake recovery? I've previously commented that the vibe in Christchurch is different these days – it is old boys out, entrepreneurs in, and anyone who attended the recent sold-out Canterbury Tech summit will have noticed that.
The Ministry of Awesome is one of the essential parts of this growing ecosystem, and Johnson has her own views on what makes Christchurch unique.
"Eight years ago we had to re-imagine and reinvent our city.  Anyone who wanted the 'normal' left. At the same time, there was a massive influx of individuals in search of opportunity. Also playing out in the background are these major global shifts creating uncertainty. So, not only is New Zealand becoming a destination for progressive thinkers and risk takers, Christchurch represents the highest potential for opportunity.
"Add in the sheer number of tertiary institutions, crown research institutes, the excellence of our tech and manufacturing sectors, and a sprinkle of affordability and extreme natural beauty, and you get an unusually rich and diverse startup ecosystem."
An example is The Brothers Green. Last year MoA and Foodstuffs South Island set up the Foodstarter competition to find New Zealand's most innovative food and beverage startup. The hemp food venture was the winner, and today it is supplying 98,000 Hempy bars (a hemp-based snackbar targeted at kids) to New World supermarkets across the South Island.
Another is the creation of Te Ōhaka, where MoA is based. In English it means "the nest" and it is a place where high growth startups can incubate in a collaborative environment. Located within the Ara Institute of Canterbury campus, it is now home to 23 startups ranging from airport fog dispersal systems venture Limpidity, athlete performance monitoring company Komodo Monitr, and location-specific mindfulness initiative Wanderble. Opening Te Ōhaka in May this year is one of the local innovation community's proudest achievements, Johnson says.
People outside of Christchurch who still see the southern city as being white and conservative can lay those old perceptions aside as well, she says. Every member of the MoA team has moved to Canterbury from overseas – a diverse mix of folk from France, Argentina, India and the United States.
"I think one of the reasons our team is so international is that MoA represents startup culture, which in itself represents risk taking and self-agency," Johnson says. "There's no better profile of that than in a person who shifts from one country to another to follow their dreams and ambitions."
Johnson hopes in 10 years' time Christchurch will be a centre of excellence for technology-enabled future industry sectors that allow the world to survive climate extinction and improve the lives of people. "Future food, fibre, transport, medtech, and healthtech are all sectors we are focusing on now.  I'd love to see that we've had a few home runs in one or all of those sectors because of all the awesome work we are doing now."
Steven Moe is a Partner at Parry Field Lawyers in Christchurch and committed to telling good stories through the weekly seeds podcast. He has spoken at many events organised by The Ministry of Awesome.