Is your company info on our tech ecosystem map yet?
We are on a mission is to capture all tech companies across Canterbury into this ecosystem map!
A huge thanks to Orbviz who have made this possible. We have loved using the tool to create this interactive map of the Ecosystem – and we hope that you love interacting with it too.
We want to ensure that this whole ecosystem is visible. There are a lot of companies doing amazing things across the region – and often very few people have heard about them!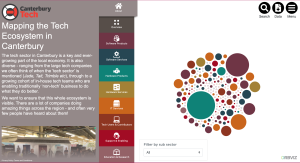 Now is the perfect opportunity to get your company's details updated in the ecosystem before we head into Tech Summit – Your company will be seen by 100's of attendees via our interactive map available at the summit.
To get on the map, please complete this form: Ecosystem Map Form
To check to see if your company's details are filled out in the ecosystem, view the map here: Ecosystem Map
The tech sector in Canterbury is a key and ever-growing part of the local economy. It is also diverse – ranging from the large tech companies we often think of when the 'tech sector' is mentioned (Jade, Tait, Trimble etc), through to a growing cohort of in-house tech teams who are enabling traditionally 'non-tech' business to do what they do better.
Questions? Email info@canterburytech.nz